Meet Dr. Scott Minton
Aligning With the Natural Health Philosophy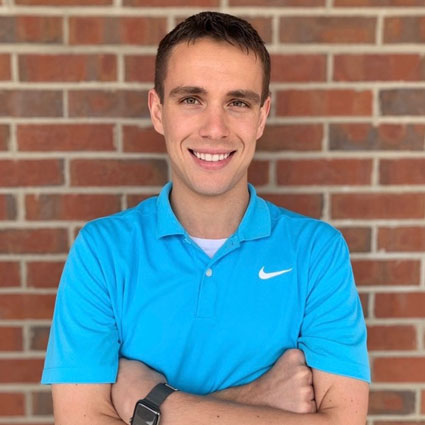 A year-round swimmer since middle school, Dr. Minton started experiencing shoulder and low back problems when he was in high school. "I waited for it to go away, then started taking ibuprofen. It wasn't helping." His coach recommended that he start seeing a chiropractor. Once under care, Dr. Minton found relief from his pain, and regular care kept him injury-free for the rest of his swimming career. He'd always known that he wanted to enter the health care field. "I liked the way chiropractors looked at health. You didn't have to take a drug or have surgery to get better." Dr. Minton shadowed his chiropractor. Once he realized how many suffering people that were helped naturally, he chose to enter the profession.
I believe people will become patients because of what's in my mind and heart, as well as what I can do with my hands.
Beginning the Journey to Helping Others Heal
First, Dr. Minton completed his undergraduate education in Exercise Science, attending Indiana University Bloomington. Then, he moved on to Logan University to receive his Doctor of Chiropractic, where he graduated summa cum laude. During his time at chiropractic college, Dr. Minton attended many seminars to become a more well-rounded practitioner. He earned a Full Body certification in Active Release Techniques® and trained in pediatrics. One particular experience that impacted Dr. Minton was a mission trip he took to the Dominican Republic. Over the course of nine days, he treated hundreds of underserved patients, seeing the powerful results they got from chiropractic care.
Living an Active and Healthy Life
Dr. Minton took up participating in triathlons after moving to St. Louis to attend school. He enjoys participating in the half and full IRONMAN® competitions, prioritizing an active life that allows him to enjoy good health. He is a member of the Indiana State Chiropractic Association and proudly sponsors the Fishers Farmer's Market. Be free from pain and discomfort and enjoy your greatest levels of health. Contact us today to book your time!
CONTACT US
---
Dr. Scott Minton | (317) 598-5221